About Graham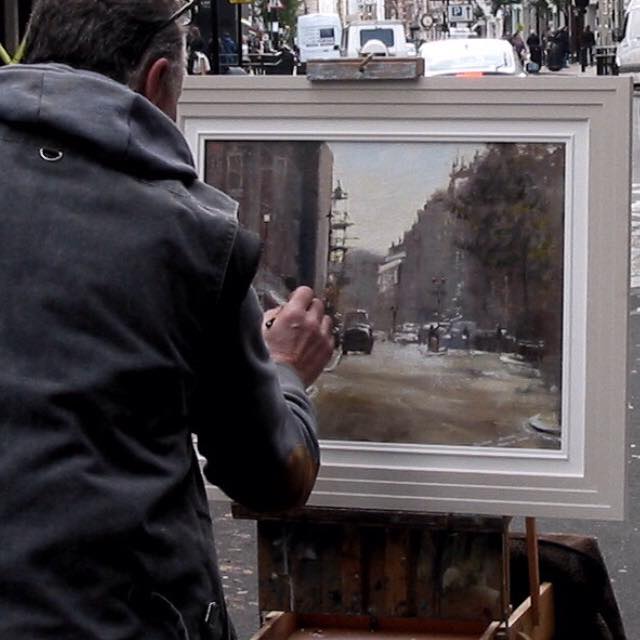 It all began for me as a schoolboy, I will always remember the first time I walked into the schools art rooms, the smell of the oil paint, clay and poster paints was fantastic. I took to my art teacher straight way and at the end of my first lesson he said to me "have you ever used watercolours?" I looked at him "no not really" I said, I had never used any paint before. "Try these watercolours lad, see what you can do with them" and he handed me some paints and a few sheets of watercolour paper, they must of been his own supply so I felt very honoured and rushed home to try them. It was wonderful trying something new, and I was instantly hooked. Needless to say I still get the same satisfaction now every time I lift a brush.
As I developed my skills with paint I soon found subjects that really inspired me, such as marine and cityscapes.
When I started my working life in London as a printer, I found myself going out after work sketching on a regular basis.  One day when painting in Bow lane, near St. Paul's, a guy approached me – who I later discovered owned Glory cards in Bow Lane – and wanted to buy the painting from me, he asked that I come down to his shop when I had finished, that was my first sale 'off the easel'.
I have over the past few years painted with the Wapping group of artists as a guest. The Wapping Group itself is a prestigious art group of only 25 statutory members and was established in 1946 with the initial intention of recording the busy life of London's docklands but in more recent times wider area is explored covering venues anywhere between Henley and the Thames Estuary. I am very proud to say that I was elected as a candidate in 2016.
I am a member of the United Artists and had my first exhibition with them in 2016, and have had many successful solo and group exhibitions throughout London since the early 90's.
Summing up, these nothing I like more than escaping and loosening ones self into painting, it gives me a chance to forget all life's pressures momentarily and come away with a memory which encapsulates a moment in time.
Thank you for your interest and I hope you enjoy viewing my paintings as much as I enjoyed painting them.

Solo Exhibitions
Graham has had several one man shows from 1990 to date
Tudor Barn Well Pleasance 1990-1993
Hall Place Bexleyheath 1994-1997
The Barbican Centre Holborn 1996-2000
Charlton House 2001-2002
Blackheath halls 2010
Chalton House 2011
Studio 61 Lee High Rd Blackheath 2012-201
Capital Art Gallery Eltham 2016
Trew Art Gallery 2016 2017
Group Exhibitions
from 1990 to 2015
Amature Art Society 1990-1993
Tudor Barn Blackheath 1991-1994
Fairfield Halls Croydon 1992-1994
Hall Place Bexleyheath 1994-1998
Charlton House Charlton 2001-2002
Kent County Show 2012-2013
Studio 61 Blackheath 2013-2015
Oil & Water Gallery Wandsworth 2014-2015
Henley Regatta 2014-2015
The Trew Art Gallery June 2016
Capital Art Gallery September 2016
Rye Art Gallery October 2016 with the Wapper group of Artists
The Mall Galleries The Wapping Of Artist March 2017
Cedar House Art Exhibition Run By The Trew Art Gallery 2017
RI Mall Galleries 2017
Trew Art Gallery 2017
Societies
Wapping Group
United Society of Artists